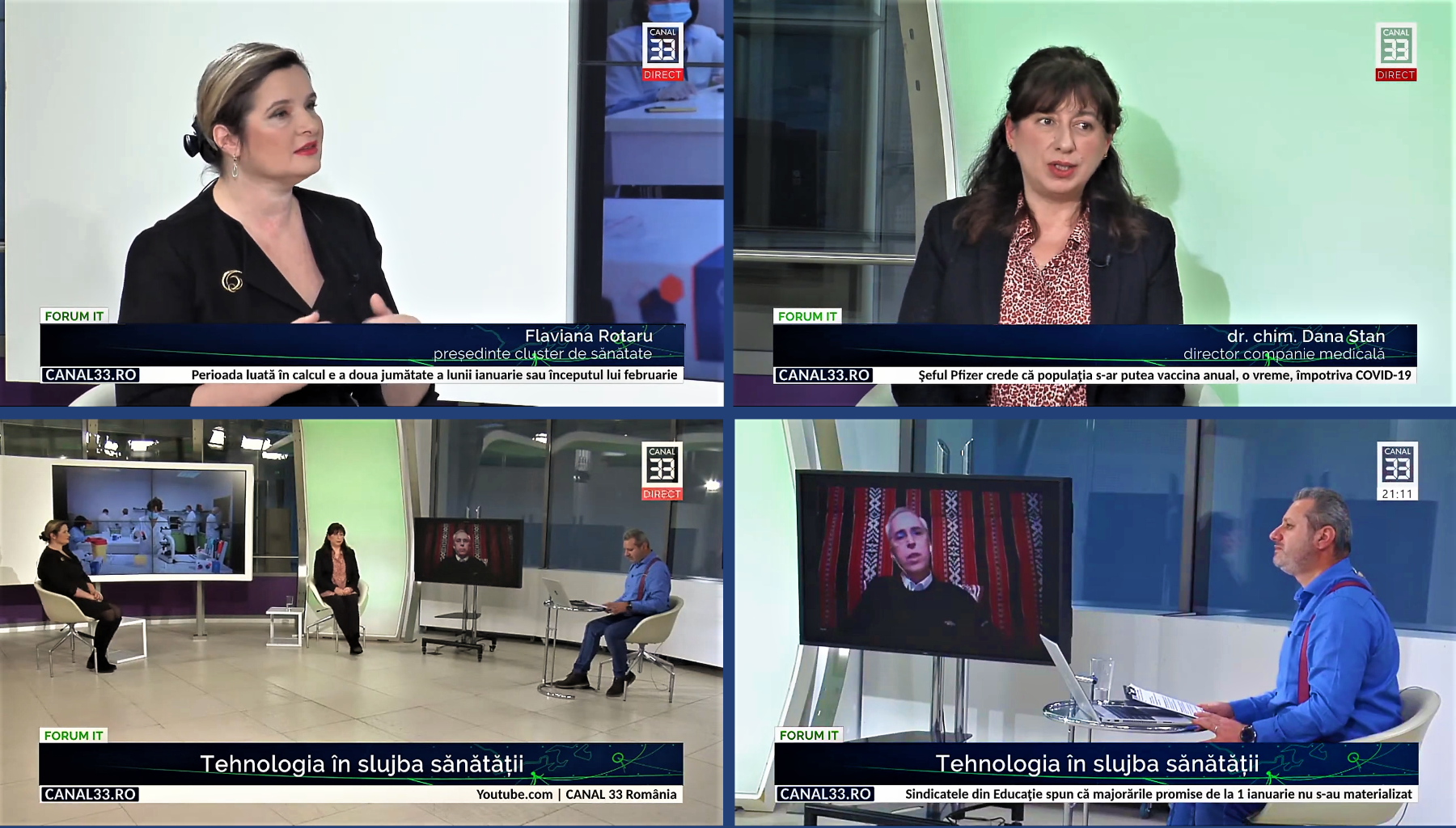 The two guests of the IT Forum show from January 13, 2022, debated together with the two moderators of the show about reasons why technology and health hardly manage to walk side by side in Romania. They made an x-ray of this situation and shared ideas for improvement and arguments to make young people join the Romanian research teams.
𝗙𝗹𝗮𝘃𝗶𝗮𝗻𝗮 𝗥𝗼𝘁𝗮𝗿𝘂 is the president of 𝗥𝗢𝗛𝗘𝗔𝗟𝗧𝗛 – The Health and Bioeconomy Cluster, an experienced consultant and General Manager of Frontier Management Consulting, president of MEDRo, the Romanian Network of Clusters in the medical field.
𝗗𝗮𝗻𝗮 𝗦𝘁𝗮𝗻 has a Ph.D. in Chemistry, and she is CEO and Head of Research at 𝗗𝗗𝗦 𝗗𝗶𝗮𝗴𝗻𝗼𝘀𝘁𝗶𝗰, a member firm in 𝗥𝗢𝗛𝗘𝗔𝗟𝗧𝗛.
The show broadcasted on Thursday, January 13, 2022, from 9:00 pm to 10:00 pm, was co-moderated by 𝗖𝗮̆𝘁𝗮̆𝗹𝗶𝗻 𝗚𝗿𝗼𝘀𝘂 and 𝗔𝗹𝗶𝗻 𝗡𝗶𝘁̦𝗮̆
𝗖𝗮̆𝘁𝗮̆𝗹𝗶𝗻 𝗚𝗿𝗼𝘀𝘂 is the producer of the show 𝗙𝗼𝗿𝘂𝗺 𝗜𝗧 | 𝗜𝗧𝗮𝗹𝗸𝘀, a reputable consultant for Business, Education and Diplomacy, president of the Association 𝗙𝗼𝗿𝘂𝗺 𝗜𝗧 for computer-assisted education, president 𝗔𝗥𝗣𝗖 - Romanian Association for Protocol and Ceremonial, and president of 𝗖𝗘𝗥𝗜 - The Romanian Integration Center.
𝗔𝗹𝗶𝗻 𝗡𝗶𝘁̦𝗮̆ is an online marketing expert and CEO of 𝗙𝗶𝘃𝗲𝗣𝗹𝘂𝘀.
Watch the show and enjoy - https://youtu.be/2vJMn02QiXY!