The accounts opened for donations are:
Ron: RO90BRDE426SV02339694260 Eur RO82BRDE426SV02339854260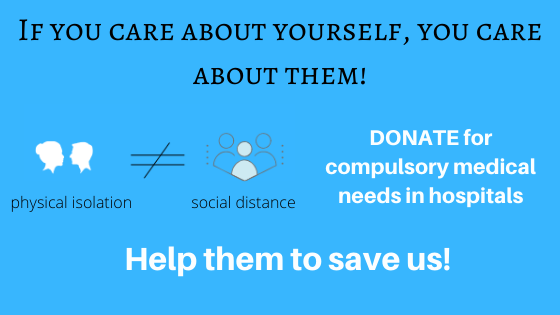 As the most connected NGO to the medical life in Romania, we officially announce that
our doctors need our help.
Today doctors suffer more than their patients.
We launched the only ORGANIZED, CENTRALIZED and TRANSPARENT fundraising campaign exclusively for medical professionals capacitively exceeded by official state aid.
We have opened two accounts at BRD bank, where we receive financial support and we give it further depending on the specific needs announced at national level.
All donations and the allocation of funds from these donations will be made public here, on the platform.
We work only with accredited and verified providers from Romania and Taiwan, and the distribution of medical instruments to each medical unit in need is based on the offers and selection of the best price / quality ratio.
Official calls come from the Clinical Hospital of Nephrology "Carol Davila", the Hospital of the National Institute of Pneumology prof. Dr. MARIUS NASTA, the County Hospital of Timișoara, the Universitar Emergency Hospital of Bucharest, the Clinical Hospital of Pneumophysiology Iași, who need in total:
3.300 COVID Tests
35.900 protection glasses
42.100 visors / shields protection
68.000 complete protection kits
79.000 masks with Hepa filter
123.000 bonnets/ caps
17.400 reinforced surgical gowns
68.000 impervious protection gowns
203.000 pairs of boots
965.000 pairs of examination gloves
410.000 three-layer surgical masks
1.500 liters disinfectant surfaces TP2
1.500 liters surface disinfectant TP1
They are all desperately asking for equipment.

HELP THEM TO SAVE US!
The accounts opened for donations are:
Ron: RO90BRDE426SV02339694260 Eur RO82BRDE426SV02339854260
---